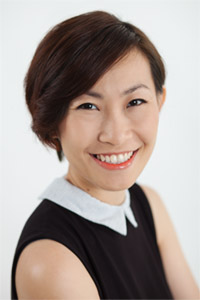 From wedding day to evening dinner, Jovie Tan believes every lady deserves to look better than they can ever imagine. Combining her little brushes with passion to create pretty things, she seeks to bring out the elegance and beauty out of every faces in the most natural form.
A former secondary school teacher who graduated from NUS, Jovie received the Professional Make-Up And Hairstyling Artistry training from The Makeup Room in 2008 before turning to become a full time professional makeup artist.
In 2013, Jovie attended the Make Up For Ever Airbrush Course, to fulfill the increasing demand for airbrush makeup. The following year, Jovie attended a One-to-One Professional Hair Styling Course in Taiwan to bring her skills to the next level.
Based in Singapore, she specializes in bridal makeup-hairstyling and she also shares her knowledge in makeup with others through courses in her studio.
Jovie uses only high quality products. Her works have also been featured in local editorials like the Singapore Tatler magazines and L'Officiel magazine.
In 2011, Jovie felt honoured to be awarded twice by Cozycot, first as one of the recipients for Cozycot 100 Most Inspiring Real Women and later Cozycot 100 Most Loved Beauty Professionals.
Since then, TheLittleBrush Makeup has been consistently featured in many local websites as one of the top makeup artists in Singapore:
To learn more, you may also read on the testimonials by the clients of TheLittleBrush Makeup from at the Facebook Review page here.