Makeup Course for Teenagers in June School Holiday
Learn to Do Makeup the Right Way
Every girl wants to look pretty. Most would search in Google or Youtube for makeup tutorials. Without proper skincare knowledge and correct guidance, you could easily end up looking weird after applying makeup, or worse – hurt your skin.
Or you can choose to learn from a professional makeup artist. This Makeup Course of Teenagers is designed specially for teenage girls who love experimenting with makeup, or for those who are keen to learn but simple have no idea where to start.
5 Quick Questions


Do you feel frustrated because you don't know how to make yourself look better?


Do you want to learn how to do makeup that suits your age and style (without looking twice your age)?


Are you worried that you'll waste money and buy the wrong cosmetics?


Do you always like to play with (your mum's) cosmetics?


Do you want to look different and feel more confident on the next party or your prom night?


If you answer is YES to all of the above, you know you'll want to learn proper makeup techniques.
Hello, I am Jovie Tan, a professional makeup artist from TheLittleBrush Makeup for the past 8 years. Besides doing bridal makeup, I have also been conducting courses for working adults. This June holiday, I wish to impart my knowledge to young adults. After all, I was a secondary school teacher before this, so teaching and educating comes naturally to me.
Drop me your contact above, and I'll be in touch with you shortly.
Skin care knowledge
Learn all the facial tips and tricks
Eyes Makeup Techniques
Choosing and applying eyeshadow, eyeliner, mascara, curling lashes and drawing eyebrows
Face Makeup Techniques
Choosing and applying the correct foundation and applying blusher
The make up course was extremely useful to me. It has helped me choose the right products. Till i attended this course I was totally unaware of the sequence of products to be used. Also every time I went to a store I would be confused seeing the ranges of cosmetics available. Right now I feel a bit more informed and confident about picking the right products and shades for my face.Ms Srividya
Both of us enjoyed it and it was a learning experience for both of us who do not do much make up.Mrs Mala and daughter
The make-up course was very personalised and I learn a lot from Jovie in terms of make-up skill and picking of suitable colors for myself.Ms Roxanne Lau
My daughter Madeline and I attended the course during our holiday in Singapore in June/July. Jovie was very kind to squeeze us in before she left for her sisters wedding! We thoroughly enjoyed the session and learnt so much. What we particularly appreciated was the knowledge of makeup for Asian features. Coming from Sydney, it is impossible for us to get this advice from normal cosmetic counter staff.
We wished that we could have attended the advanced course!Mrs Wendy Chew and daughter
That Jovie gave tips based on my own features and skin type, that she gave valuable guidance on skincare and hygiene. That she is respectful and when giving feedbacks or comments, very mindful of the sensitivity of her participant. Naz
Jovie is a friendly and knowledgeable trainer. She paced the course well so that I have time to listen and also to practise as well. Through this course I have learnt the foundation of make-up which helps me to look better. I also took the advanced course to prepare myself for parties and more formal functions.
It has really boosted my confidence in meeting people.Ms Susan Lee
Preparations
Fresh Face

Course participants are encouraged to come with fresh face without makeup.

Course Materials

Makeup product will be provided during lesson. A complimentary set of 6-piece travel brush set (below).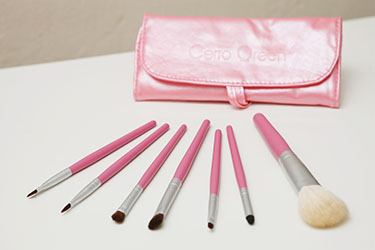 Details
Course Participant Criteria

Only for student girls (Secondary School or Junior College)

Course Venue

19 Lim Liak Street, 161019 Singapore

Course Period

June School Holidays (1 June 2016 – 31 June 2016)

Course Duration

One session of 2 hours, longer for more than one participant.
Course Fee
* A 50% deposit payment is required for booking confirmation. Balance to be paid on the day of the course itself