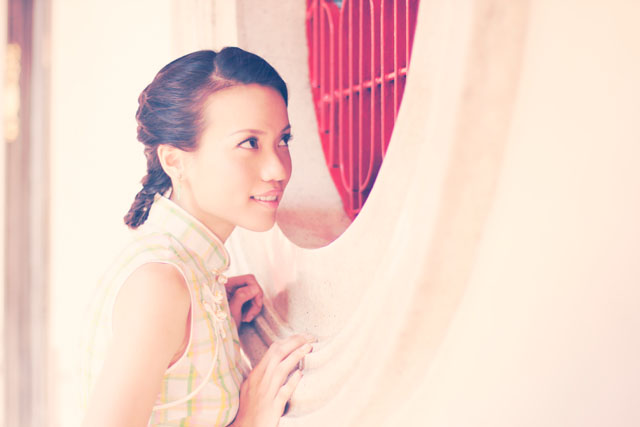 To say that this is the most unique pre-wedding makeup and hairdo that I have done in 2011 is an understatement.
Meet Lilian, the founder of Dayglow, a Singapore-based women's ready-to-wear cult label that is inspired by past eras. In other words, she is all about retro and vintage.
Naturally her pre-wedding (and later, wedding) theme should go along the same theme, with her own-label dresses.
I am more than thankful enough to be acquainted with the lovely Lilian, who gave me a lot of room of creativity and inspirations.
We had four different looks on the day.
The first braided hair look was inspired by the Singapore Mediacorp Drama Tofu Street (豆腐街) to tell about how  their love story started. *Music cue for 城里的月光* 🙂
The second look was old school theme with school uniform.
The third look was a reminiscence  of 60s A Go Go style with wavy hair with the wing eyeliner where the photoshoot took place in a classic American style restaurant.
And we finished off with the final elegant & classic look.
Of course, all these would not be possible to be recorded and translated into an art form without the talented photography from CyanWater Studio.